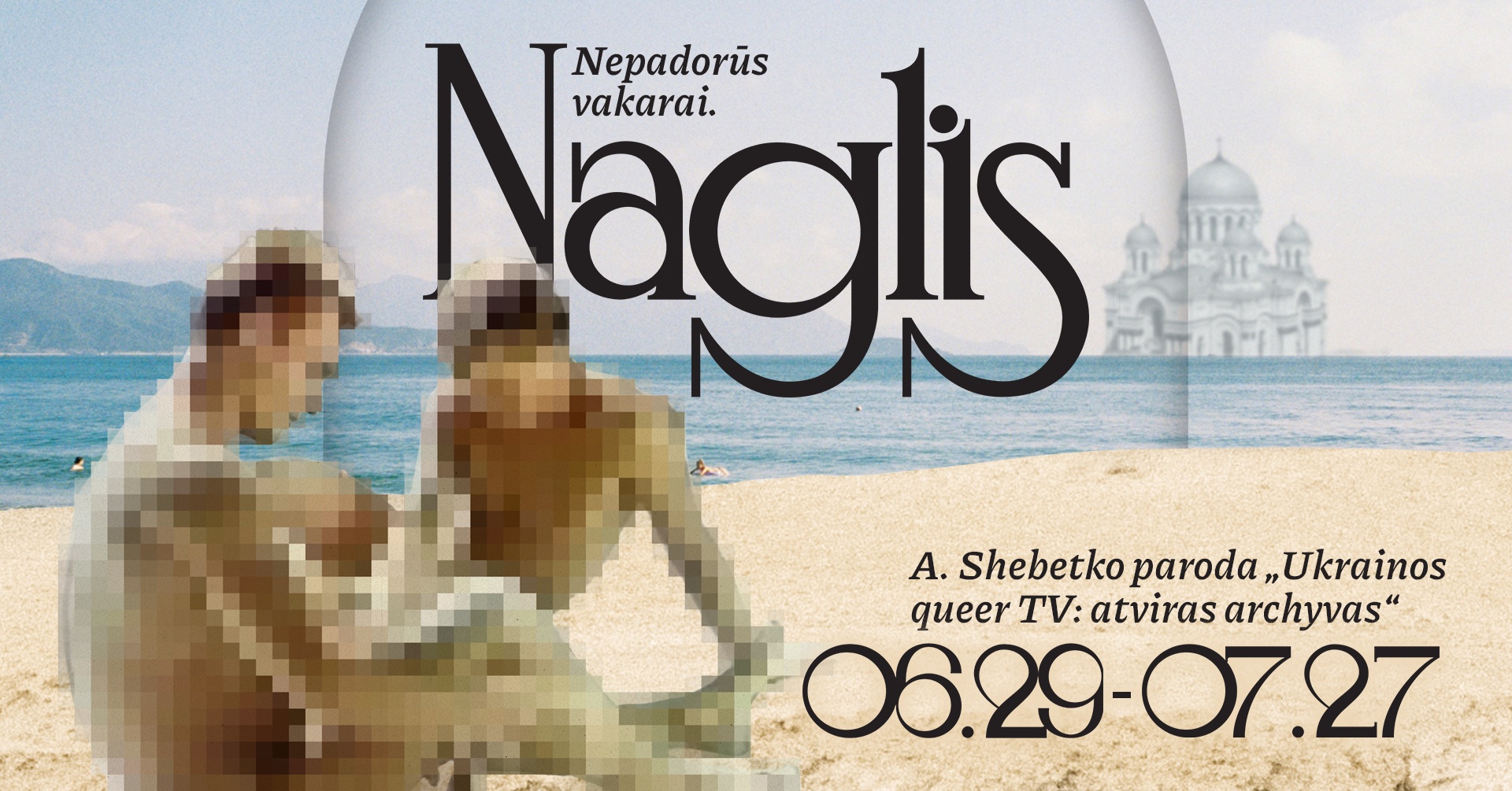 2023
06
29
–
2023
07
26
Obscene West. Naglis | Exhibition
2023
06
29
–
2023
07
26
From June 29th to July 20th, the Kaunas Artists' House will host an exhibition titled "Ukraine Queer TV: Open Archive" by Ukrainian artist Anton Shebetko. The exhibition will consist of a three-channel video project exploring various forms and methods of depicting homosexuality and otherness in Ukrainian media. The exhibition will also feature a timeline of Ukrainian queer history compiled by the artist, highlighting key dates in the Ukrainian LGBTQ+ movement.
The exhibition will be open: Monday to Thursday from 12 to 6 p.m. and on Friday from 12 to 5 p.m.
Ukrainian Queer TV: An Open Archive
A three-channel research video project that looks into the many forms and methods through which homosexuality and queerness are portrayed in Ukrainian media. The first video focuses on depiction in fiction, including plays, movies, music videos, and TV series. From coded queerness in the late Soviet era, through a brief period of emancipation in the 1990s, and mockery and queerbaiting in the 2000s, it proceeds chronologically to a broad and mainly positive representation of the years after the Revolution of Dignity. The second video is based on TV news stories on pride marches (marches for equality), from the first one, which was canceled in 2012 due to threats, to the largest one, which took place in 2022 just before a full-scale Russian invasion and drew roughly 8,000 people. The third video focuses on portrayal in non-fictional media. It's a mash-up of reality TV, talk shows, gossip news, and celebrity profiles that dates back to the early years of Ukrainian television in the mid-1990s; it is also the only one in which material is displayed not in chronological order.
Anton Shebetko is a Ukrainian artist and photographer from Kyiv. He currently lives in Amsterdam. He works closely with LGBTQ + topics, themes of memory, loss of identity, plurality of history, and the role that photography can play in revealing these stories. His extensive research is devoted to the forgotten queer history of Ukraine. His range of projects varies from installations and interventions dedicated to old cruising spots and underground gay resorts in Crimea to more relevant topics such as Ukrainian LGBTQ + soldiers. His works were shown at FOAM Museum and Stedelijk Museum in Amsterdam, the Netherlands, Frei_raum Q21 Exhibition Space in Wien, Austria, Photo Elysée in Lausanne, Switzerland, CENTQUATRE-PARIS in Paris, France and Mystetskyi Arsenal in Kyiv, Ukraine. His works were published in British Journal of Photography, Butt Magazine, GUP Magazine, VIce, De Correspondent, Huck Magazine. He was a recipient of Where Love Is Illegal Fellowship in 2022.
_
Project Curators: Agnė Bagdžiūnaitė, Edvinas Grinkevičius
Project Communication: Skaistė Kiaurynaitė-Beniušė, Darius Matonis
Project Design: Kornelija Zizaitė
Project partners: Association "In corpore", Artnews.lt
The project "Obscene West. Naglis" is funded by the Lithuanian Council for Culture.